Faculty
OVERVIEW
In accordance with the university's educational philosophy of
"cultivating professionals with international competitiveness and an excellent international sense",
a university-wide promotion committee was formed for specific planning and implementation of the
Institute of Global Affairs and Institute of Education.
In addition an external review committee, consisting of domestic and international members,
with knowledge in global education and organization, was formed for quality improvement.
The staff of the Global education who support global education at the
university have a variety of medical professional backgrounds.
We would like to introduce these instructors who have a wealth of international careers here.

Kazuki Takada, M.D., Ph.D.
Professor
After graduating from Kyushu University School of Medicine in Japan, he received post-graduate training in internal medicine at the Beth Israel Medical Center in New York and in rheumatology at the National Institutes of Health in Bethesda in the United States. During fellowship, he engaged in observational as well as investigational clinical research activities in rheumatoid arthritis, systemic lupus erythematosus, and dermatomyositis, and obtained the Master of Health Science in Clinical Research from the Duke University Graduate School.
He is certified in internal medicine and rheumatology by the American Board of Internal Medicine, and is a Fellow of the American College of Physicians and of the American College of Rheumatology.
He returned to Japan in 2002 and has since been a full-time faculty staff of the Tokyo Medical and Dental University. He spent first few years conducting clinical research in rheumatology and have subsequently engaged in undergraduate curricular reform of the school of medicine as a member of the education committee, playing a principal role in clinical clerkship (chair, clerkship directors' committee), global education (chair, health sciences leadership program, an English-only after-hour program for a small number of motivated/committed students aspiring to be a future global leader in health and medicine), and interprofessional education. In April 2016, he was promoted to deputy director of education and joined a newly established school-wide organization, "Institute of Education", as its core member, to promote school-wide curricular reforms and quality assurance.

Janelle Moross
Associate Professor
Began her career as a nursing assistant and worked throughout university gaining valuable experience in many fields of medicine by rotating to all wards in the hospital. In 1984 graduated nursing school and was certified by the state of California. The next year she became a certified intubation instructor and NICU specialist, moving up to charge nurse in nursery and NICU. Her move to Japan was in 1990 where she started teaching nutrition and exercise for pregnancy, newborn childcare, and breast-feeding classes to foreign mothers. She also was part of a volunteer committee at Tokyo Metropolitan Maternal and Child Health Care Center to conduct surveys and make assessments for improving service. She has been teaching at the university level since 1999 when she became a professor of medical terminology at Tokyo Medical University. Her career at TMDU began in 2008 as part-time instructor, promoted to clinical professor of medicine in 2009, full-time Assistant Professor in the Office for Global Education and Career Development in 2012, and now she is Associate Professor in the Institute of Global Affairs. She works in collaboration with all faculties at TMDU and is very interested in assisting in the advancement of education for all students and faculty.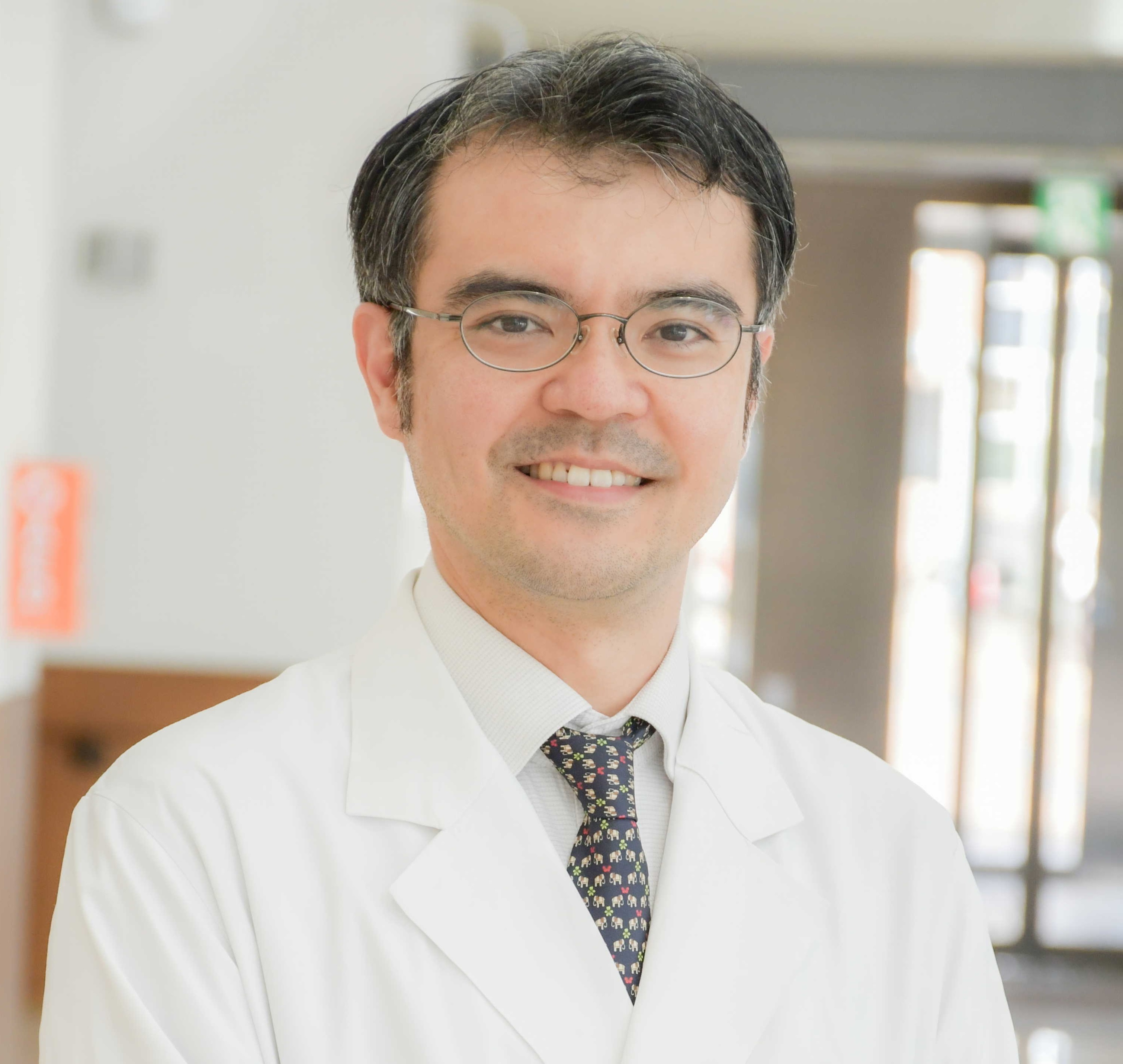 Takuya Okada, M.D., Ph.D.
Associate Professor
Graduated from Tokyo Medical and Dental University (TMDU), School of Medicine in 2004. After Residency Program of TMDU hospital, he entered specialized training course of TMDU General Surgery Department, 2006-2009. While working as a surgeon, he studied in TMDU Graduate School 2009-2013, and received PhD in Medicine with clinical researches of gastrointestinal cancer treatment.
Since 2013, he was dispatched to the TMDU Latin American Collaborative Research Center (LACRC) in the Republic of Chile. Then he participated in an international project, Programa de prevención del cáncer colorrectal (PRENEC), for spreading colorectal cancer screening system in Latin American countries. He also provided technical guidance of endoscopy and colonoscopy to the local doctors. Furthermore, he was contributed to epidemiological research activities, and he received several medical awards for his scientific papers.
After returning to Japan in 2015, he belonged to the department of Gastrointestinal Surgery, and was involved in surgical treatment and endoscopic diagnosis related to the gastrointestinal diseases.
Since August 2019, he has been a member of Institute of Global Affairs (IGA), and a teacher of Fundamentals of Global Health (FGH) in HSLP. He is also director of International Healthcare Department of TMDU hospital, supporting international patients and improving their accessibilities.
Naoko Seki, D.D.S., Ph.D.
Junior Associate Professor
Naoko Seki is an assistant professor in the Institute of Global Affairs at TMDU. She received a D.D.S. from TMDU and a Ph.D. from TMDU graduate school. Her research interest is in dental education and tooth color. At TMDU, she teaches students in the HSLP and BRIDgE programs.

Rebecca Carlson, MFA, PhD
Adjunct Lecturer
Rebecca Carlson is an anthropologist with a background in film and media production. She began teaching at universities in the US in 2001 and has taught courses in various disciplines such as media production, anthropology and sociology. For five years, she also worked as a media instructor and graphic designer for The Collaborative, a youth program engaged in giving at-risk high school students the tools to use media to empower themselves and their communities.
Rebecca works with highly motivated students in the Health Science Leadership Program (HSLP), where she utilizes a biosocial approach in teaching about global health inequities. This approach demands a consideration of the relationship between biological mechanisms of disease and the social structures through which individuals experience and make sense of illness. She teaches undergraduate and graduate courses on medical anthropology, global health, the social construction of health and illness, qualitative methods, contemporary Japanese society, and gender.
Rebecca earned an MFA in Film and Media Arts (2004) and an MA in Anthropology (2006) from Temple University in Philadelphia and received her PhD in Anthropology from the University of Pittsburgh (2018).