Competency Achievements
OVERVIEW
English proficiency, as a universal language, is but a mere tool. What is truly needed for constructive discussions and interpersonal cooperation is a broad world perspective including cultural experiences to better understand the other party, and a high level of education, which includes intellectual, interpersonal, and leadership skills.
Based on the purpose and leadership traits mentioned, competencies expected of participants are defined as follows.
Also, the diagram at the end shows how the leadership skills cultivated through this program function in a coordinated fashion for global leaders to play active roles in international arenas to bring about innovation.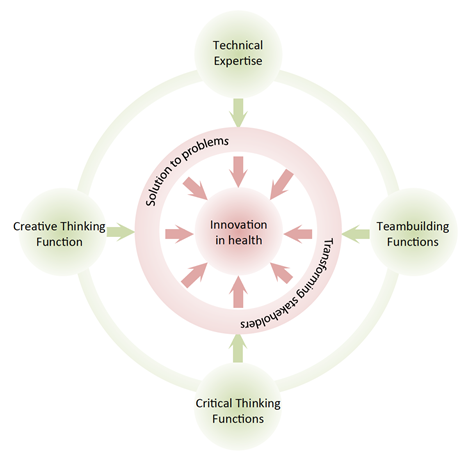 Technical Expertise
Basic medical knowledge

*1

Clinical knowledge

*1

Public health knowledge

*1

Global health knowledge

*1
To resolve global health challenges, in addition to disease treatment, it is essential to focus on disease prevention and the removal of various environmental and social factors that hinder prevention and recovery. In addition, the development of low-cost medical technology as well as advanced medical care is essential, even if it takes reform of the healthcare/medical insurance systems. To achieve this, the cooperation of various basic medical and clinical personnel such as in the medical and dental fields, social sciences, and related departments is essential. Global health involves taking responsibility for solving global healthcare challenges by such a "multidisciplinary approach". Students must learn the knowledge required in this area of global health, must capitalize skills used in complex international health-related activities, always consider the objective and outcome of their actions from many viewpoints and have the attitude to strive and improve by the time of course completion.

Related humanities and social science knowledge


Participants should demonstrate an attitude towards striving to acquire an advanced understanding of political and economic philosophies, so as to utilize them in health science-related problem-solving for real society issues, and always consider the analysis and outcome from the point of view of themselves and of their own group's actions.

Linguistic skills


TOEFL iBT 100
*1:

In pursuit of accomplishing these, systematic learning is done on the basis of appropriate target setting in each department's curriculum, this program puts focus on the application and integration of this knowledge.
Teambuilding Functions
Intercultural knowledge and competence


To have "a set of cognitive, affective, and behavioral skills and characteristics that support effective and appropriate interaction in a variety of cultural contexts".

Teamwork


To exhibit behaviors under the control of individual team members (effort they put into team tasks, their manner of interacting with others on team, and the quantity and quality of contributions they make to team discussions).

Management skills


To fairly delegate with appropriate authority and monitor the progress towards a goal.

Leadership skills


To become a role model that causes change in the community they are a member of, and the understanding of how to respond to difficulties associated with such behavior.
Critical Thinking Functions
Critical thinking skills


The habit of comprehensively exploring events, problems, ideas, or artifacts (things produced by man) before devising opinions or conclusions.

Information literacy


The ability to know when there is a need for information, to be able to identify, locate, evaluate, and effectively and responsibly use and share that information for the problem at hand.

Inquiry and analysis


The systematic process of exploring issues/objects/works through the collection and analysis of evidence that result in informed conclusions/judgments. Analysis is the process of breaking complex topics or issues into parts to gain a better understanding of them.

Reading comprehension


The process of "simultaneously extracting and constructing meaning through interaction and involvement with written language".

Oral communication


A prepared, purposeful presentation designed to increase knowledge, to foster understanding, or to promote change in the listeners' attitudes, values, beliefs, or behaviors.

Written communication


The development and expression of ideas in writing, which involves learning to work in many genres and styles. It can involve working with many different writing technologies, and mixing texts, data, and images. Written communication abilities develop through iterative experiences across the curriculum.
Creative Thinking Functions
Creative thinking skill


The capacity to combine or synthesize existing ideas, images, or expertise in original ways and the experience of thinking, reacting, and working in an imaginative way characterized by a high degree of innovation, divergent thinking, and risk taking.