2019 HSLP Retreat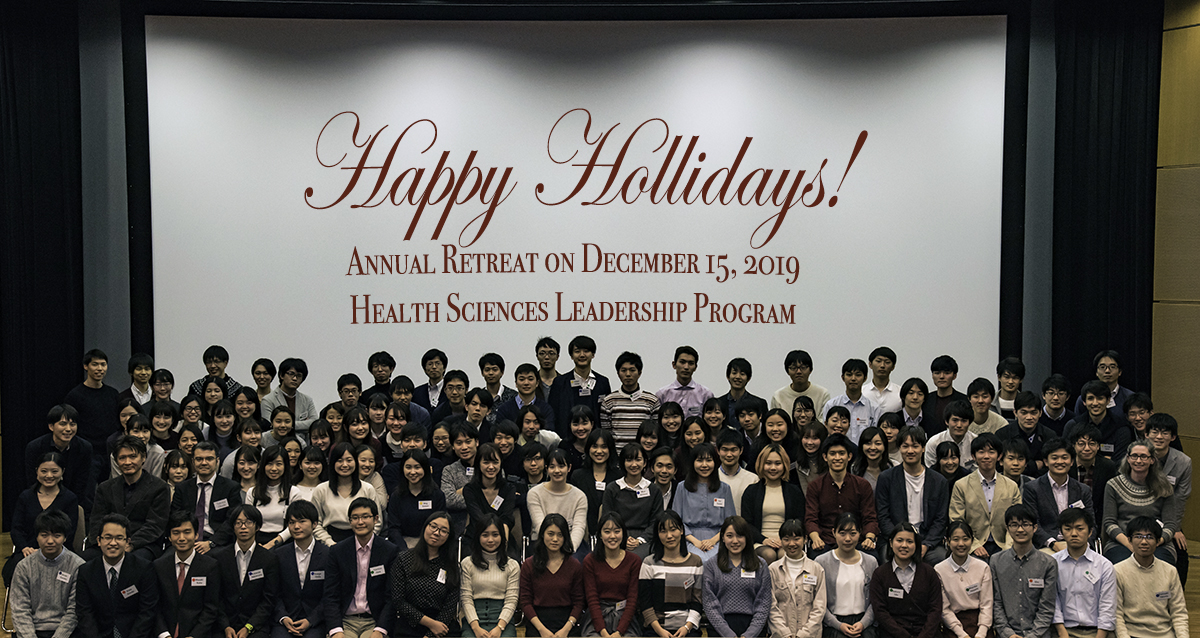 On December 15th, 2019, the annual HSLP Retreat was held at Akio Suzuki Memorial Hall. The objective of the Retreat was, as always, to remove us from busy studies and to reflect and share each other's achievement and progress, connect with and inspire/be inspired by each other, revisit our personal mission, revisit the communal ends of HSLP, and to unite the entire HSLP community once again.
The Retreat started with an opening remark by our esteemed alumnus, Dr. Marie Kitano. After reviewing all the events we went with HSLP this year, representatives of all 4 societies presented "HSLP Improvement Proposal", focusing mainly on the tutoring system, which they deliberated and prepared over the past few weeks. After a networking break, 12 current HSLP members shared their personal missions, approaches, goals including how they came to arrive at them. The freshmen who joined the fall of 2019 were introduced individually through short videos prepared beforehand in which they explained their personal missions and goals, and were all enthusiastically welcomed to our community. Subsequently, we invited 6 of our graduating students to mini-Find-Your-Role-Model sessions in which they kindly shared with us their past, present and future, focusing on experiences which made them face to their missions, approaches and goals. The Retreat was closed by the director's address in which Dr. Kazuki Takada encouraged the whole community members to move out of comfort zones and expand their world to find their ultimate personal missions, and to keep developing leadership skills by practicing, observing and reflecting. It was emphasized that we can exert leadership, even without authorities, by being committed to communal ends and by taking courage to do something which no one else is doing.
The Retreat was attended by 110 (89.4%) of current members, and 7 alumni kindly visited us in their busy schedules and gave us insights towards our goals and missions, which helped us build the vertical as well as horizontal connection within the community.
We hope that the Retreat was fruitful for all members including current members and alumni and would like to express our hearty thanks to all for your strong support and commitment to the HSLP Retreat.
HSLP Chiefs