早稲田大学×東京医科歯科大学 ディスカッション・カフェ開催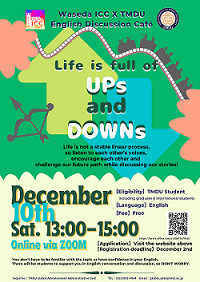 早稲田大学×東京医科歯科大学
第19回 ディスカッション・カフェ
「Life is Full of Ups and Downs」

Discussion Topic
~Life is full of ups and downs!~
・・・what kind of ups and downs have you experienced in your life?
・・・who will be the first person you want to share your ups to?
・・・how do you deal with downs and stress in your study?
・・・what do ups and downs mean in your life?
Life is not a stable linear process and always changing as there we have so many ups and downs we confronted before, we're facing now and those in the future. Meanwhile, ups and downs are undergoing many paradigm shifts over time and at different stages of our life.
The main purpose of this session is to share how to deal with downs, and also stress you get from study, social relationship or such! we can exchange frank thoughts with a variety of students from different backgrounds.
We believe by sharing stories, effective ways to solve downs and release stress, then we can get new insights regarding life's sweet and bitterness, so that go through life problems, get motivation and solutions for our future study and life!
You don't have to be familiar with the topic or English level. There will be students to support you in English conversation and discussion, so don't worry, give yourself an opportunity to hear others' and share your experiences of life!
If you want to interact with other university students, chat in English, learn about different opinions on "ups and downs," or take a break from exams and assignments, please join this session!


What is Discussion Café?
In July 2013, TMDU and Waseda University signed an agreement with the primary goal of cooperating to cultivate future global leaders. This will be the 17th gathering of "Discussion Café" under this cooperation.
DCafé provides a rich environment for discussion in English of current controversial topics with students from various backgrounds. This is a fantastic opportunity to network with students in various fields of study from Japan and other countries and practice expressing your opinions in English!
日時
2022年12月10日 (土) 13:00~15:00
会場
Zoom開催
対象
本学学生
・学科・専攻・学年を問わず、どなたでも参加いただけます
・大学院生・留学生の方も大歓迎です

参加費
無料
言語
英語
応募方法
参加希望者は、下記URLから必要事項をご記入ください。

https://forms.office.com/r/AiwP5c7MuU


【応募締切】 2022年12月2日(金)午前9時

Dcafeとは?
以下にこれまでの活動報告が掲載されています。
https://www.tmdu-global.jp/programs/dcafe/
問い合わせ