Call for Volunteers
Global Communication Workshop 2016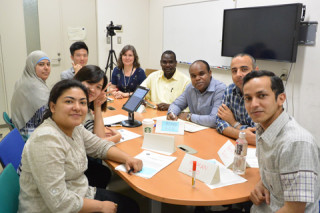 The Office for Global Education and Career Development (OGECD) at Tokyo Medical and Dental University (TMDU) is looking for a number of enthusiastic international students studying in Japan who are interested in participating in this year's OGECD Global Communication Workshop (GCW).
The GCW 2016 will bring together TMDU freshmen from across disciplines and a few high-level high school students who are interested in pursuing leadership roles in health science related fields. This event will simulate an international aid negotiation case study, with teams of students playing the roles of key actors in the global health arena and local communities.
As a volunteer you will have the opportunity to participate in a simulated negotiation, where you will use critical thinking to try and solve a healthcare related issue. During this experience you will also have the added benefit of networking with Japan's top students in the health sciences arena.
A moderate token payment will be provided.
Date and Time
(A) 09:30-13:00, Saturday, May 21, 2016
(B) 09:30-13:00, Saturday, June 04, 2016
(C) 09:30-13:00, Saturday, June 11, 2016
(D) 09:30-13:00, Saturday, June 18, 2016
Place
Yushima Campus, Tokyo Medical and Dental University
How to Apply
To apply, please email global.adm@tmd.ac.jp with your (1) name; (2) department; (3) grade; (4) nationality; (5) email address; and (6) available date/s (please choose from A to D above, you may participate more than once).
Application Deadline
The applicants are requested to register by April 22.
問い合わせ